Counselor's Corner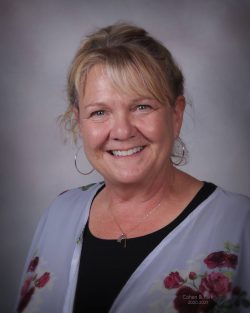 Greetings! My name is Rhoda Anderson Habedank and I am the Licensed Professional School Counselor at Newport Middle School. October 5th, 2020 was my first day in this wonderful school. My career as a school counselor has been in various grade levels, k-12, 7-12 and college. Middle school is an exciting group of students, in my opinion! I am glad to be here. 
My college career started at Concordia College in Moorhead, MInnesota where I earned a Bachelor's Degree in Elementary Education with an emphasis in Biology. My Master's Degree was earned at North Dakota State University. 
Along with being a School Counselor I am also a farmer and a singer/songwriter. I am married to a farmer and have two sons. It is a delight to be a part of the positive, talented staff at Newport Middle School!
---
Newport Middle School Counseling Program
Vision Statement:
The vision of Newport Middle School Counseling Program is our students are life-long learners through having a growth mindset. Able to set both personal and professional goals and have the skill set to meet those challenges. Becoming independent, resilient, and productive citizens in a global society.
Mission Statement:
The mission of Newport Middle School Counseling Program is to provide comprehensive support for the social, emotional, academic and future forward (college and career development) needs of ALL students. This support embraces the belief that all students have dignity and worth. To be preventative when possible to build skills for student success, and to be responsive when necessary to the developmental and situational concerns as they arise. Partnering with parents, staff and community members to support students in developing into lifelong learners and productive members of society.
Links